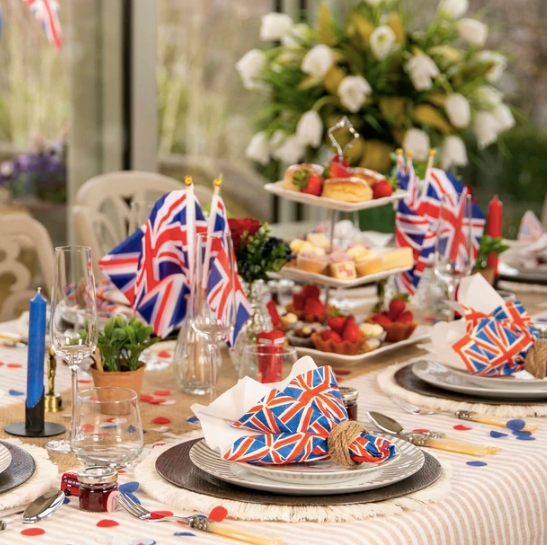 TableDay
The bank holiday weekend marking the Queen's Platinum Jubilee is fast-approaching, with a host of events, celebrations and reflections set to take place between Thursday 2 June – Sunday 5 June 2022.
There are many ways to celebrate Her Majesty's momentous 70-year reign. Whether you're jumping into the spirit by taking part in events like the Jubilee pageant or hosting your local street party – or you're looking to do something more low-key like enjoy a BBQ and Pimm's with friends, many of us will celebrate in one way or another to mark this historic event.
No matter what kind of Platinum Jubilee celebration you're planning, you may decide to get into the spirit of the occasion by decorating your home, garden or street with Jubilee-themed decorations. A great way to do this is by hanging bunting, using flags or creating a tablescape.
Tablescaping is the art of decorating your table to follow a theme. This can be done inside or outside and typically involves using items such as placemats, napkins, plates and other decorative pieces (like candles and vases) to create a table that will be the centrepiece of any space.
So, what better way to welcome in the Jubilee bank holiday than by creating a tablescape? Whether you're looking to embrace the Union Jack trend or want to nod to the Platinum Jubilee subtly by incorporating silver hues into your tableware, take a look at our edit of the best Jubilee tablescaping ideas. Some tablescapes are sold in full sets, with everything you need included, while others can be built up gradually by starting with a tablecloth or decoration…
Advertisement – Continue Reading Below
1
Platinum Jubilee Street Party Kit, sets from £59
TableDay
tableday.co.uk
It goes without saying that many of us will choose to celebrate the Jubilee by throwing or attending parties. This street party kit from TableDay creates an iconic and patriotic tablescape, with an abundance of Union Jack-themed decorations.
2
Platinum Jubilee Coronation Banquet Kit, sets from £55
TableDay
tableday.co.uk
This tablescaping kit is truly fit for a Queen. It's been modelled to look like the banquet thrown to mark the Queen's coronation in 1953. This is the most elegant, classy way to celebrate Her Majesty's 70-year reign.
3
Platinum Jubilee Dinner Party Kit, sets from £55
TableDay
tableday.co.uk
Keep it simple yet stunning with this Platinum Jubilee Dinner Party Kit. It includes everything from napkins and placemats to a stunning bouquet of flowers; all designed in platinum tones to nod to Her Majesty's monumental Jubilee.
4
Platinum Jubilee Table Decoration Set, £30
notonthehighstreet.com
If you're throwing a garden party, you may be looking for decorations to add to your tablescape. This set contains the finishing touches that any Jubilee tablescape needs: velvet napkin bows and silver tapered candles.
5
Union Jack Paper Table Cover, tablecloth from £6.99
Party Pieces
partypieces.co.uk
It doesn't get much better than a Union Jack tablescape to celebrate the Platinum Jubilee. This tablecloth costs just £6.99, with bunting, cake stands and decorations also available and sold separately, to help you create a magnificent spread.
6
Talking Tables Recyclable British Royal Paper Cover, tablecloth from £7
Talking Tables
amazon.co.uk
Talking Tables has released a host of decorations and tablescaping ideas ahead of the Platinum Jubilee. At just £7, this tablecloth is the perfect foundation for building up your ideal Jubilee tablescape.
This content is created and maintained by a third party, and imported onto this page to help users provide their email addresses. You may be able to find more information about this and similar content at piano.io
Advertisement – Continue Reading Below
https://www.goodhousekeeping.com/uk/house-and-home/home-decorating-ideas/g39924048/jubilee-tablescaping/